Guanacaste is famous for being one of Central America's most relevant places for beach and surfing activities. Guanacaste Viajes and Tours got your back so you can live a fantastic Costa Rica adventure.
We're here to help you schedule a Costa Rica transportation that will get you where you want to go to experience the best Costa Rica vacations.
Although there are a lot of Costa Rica adventure tours to explore the province in the best way, there's one place that stands out from the others and that you can't miss in your stay in Guanacaste: A Costa Rica adventure to Bebedero River.
Guanacaste Viajes provides the most trustworthy private transportation services and Costa Rica shuttles
Make sure to get to your hotel or resort of destination with the high quality and safe Liberia airport transportation services that we have in stores for you.
In this article, we bring you all the information you need to know about what to expect from Bebedero River, one of the best places where to spend your Costa Rica vacations at.
Our Liberia airport shuttle service will make sure you get the best Costa Rica adventure tours around this location.
What is Bebedero?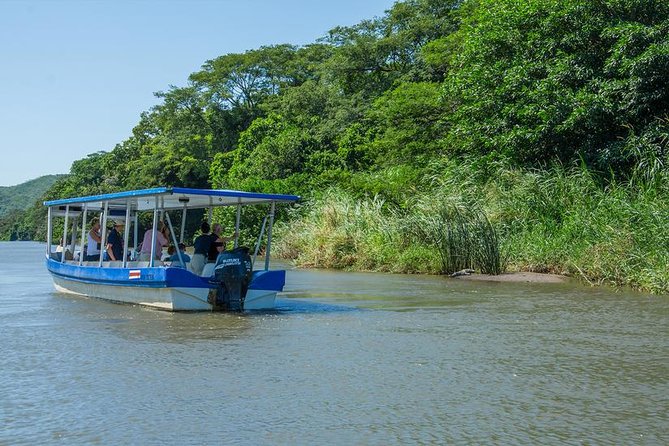 Bebedero is a river with approximately 62 km of extension, that begins in the Guanacaste mountain range and flows into the Tempisque River.
You can't miss an airport transfer to this Costa Rica natural paradise that will make the experience the best holiday of your life.
Location
Bebedero is located in the district of Chorotega in Guanacaste province, in the northwestern region of Costa Rica.
If you want to live this unique experience, don't a doubt of scheduling a high-quality Costa Rica airport transfer with Guanacaste Viajes and Tours. You won't be disappointed with spending the best Costa Rica vacations.
How to explore Bebedero River?
One of the best ways of getting to know this river and its surroundings is with a boat ride. This is a great Costa Rica adventure that you must be a part of.
During the excursion, you may enjoy nature while floating down the river. For those who prefer a quiet journey through a river, this trip is ideal for relaxing, taking photos and not worrying about anything.
This adventure in Costa Rica will allow you to get in contact with Guanacaste's nature.
You'll have a thrilling boat ride through the Bebedero River and you will contemplate a great variety of birds, crocodiles, monkeys, and many other animals.
To make sure you arrive at this destination safely, Guanacaste Viajes offers the best Liberia airport transportation so you can experience great vacations in Costa Rica with zero problems.
Safari Boat Trip
The Safari Boat Costa Rica adventure tour through Bebedero River will introduce you to an ecosystem that combines rivers, lagoons, swamps and jungles, all inside the Palo Verde National Park.
This wildlife shelter, located between Bebedero and Tempisque River, represents the biggest wetlands area in the country.
During this Costa Rica shuttle, you'll also find the Llanos de Cortés waterfalls, beautiful water bodies surrounded by vegetation in abundance, where you'll have time to swim and refresh or just to contemplate the phenomenon.
Plus, this adventure tour in Costa Rica will give you a ride through Liberia city, also known as a White city characterized by its amazing ancient constructions and the richness of traditions.
That's why you can take our private transportation services to get there in the fastest and safest way possible.
The great amount of fauna is seen while you navigate through the river. In Bebedero River you have the option of a trip to the Palo Verde National Park, which is known for having more than 300 species of birds.
The river is surrounded by tropical forests where you can see tall trees, including the Ceiba, Palma, Mahogany and the Guanacaste national tree. You can get to this area by using our Liberia airport shuttle service.
Beautiful bird species
Due to the river basin, the abundance of birds in this area can grow in a natural habitat that also welcomes species of migratory birds. If you're a bird observer, you won't want to miss a Costa Rica airport transportation to this place.
You will receive instructions during a Costa Rica guided tour through the river, including the safety measures that one must take in the journey.
The best part is that you don't need to stress out about how to get there, Guanacastes Viajes will help you book Liberia airport transportation so you can arrive safely to this place.
Book immediately a Liberia airport shuttle service from any international airport of your preference in Costa Rica, and be ready to have the most joyful adventure of your life with Guanacaste Viajes and Tours.
Summary
Reviewer
Review Date
Reviewed Item
Book a Costa Rica adventure tour to Bebedero River
Author Rating