Guanacaste Viajes offers the best private transportation services and Costa Rica shuttles from the Liberia airport to the best hotels of the beautiful province.
When the sun goes down, the beaches of Guanacaste bring unique moments that will make you enjoy a nice afternoon and fill your phone's memory with a lot of photographs of the view, so you can't miss an airport transportation to Costa Rica.
We've all seen sunsets, but trust us, there's nothing like the ones you'll evidence in this country. The variety of colors, from blue to pink, going through purple and orange, set the tone for a beautiful and distinctive experience.
You can admire the view by the sand, on a boat tour or even through the window of your hotel room.
There are a lot of aspects that stand out about this lovely area, so in order to explore Costa Rica through our airport transfer services, we bring you a list of the best places to enjoy the sunset in Guanacaste.
Tamarindo Beach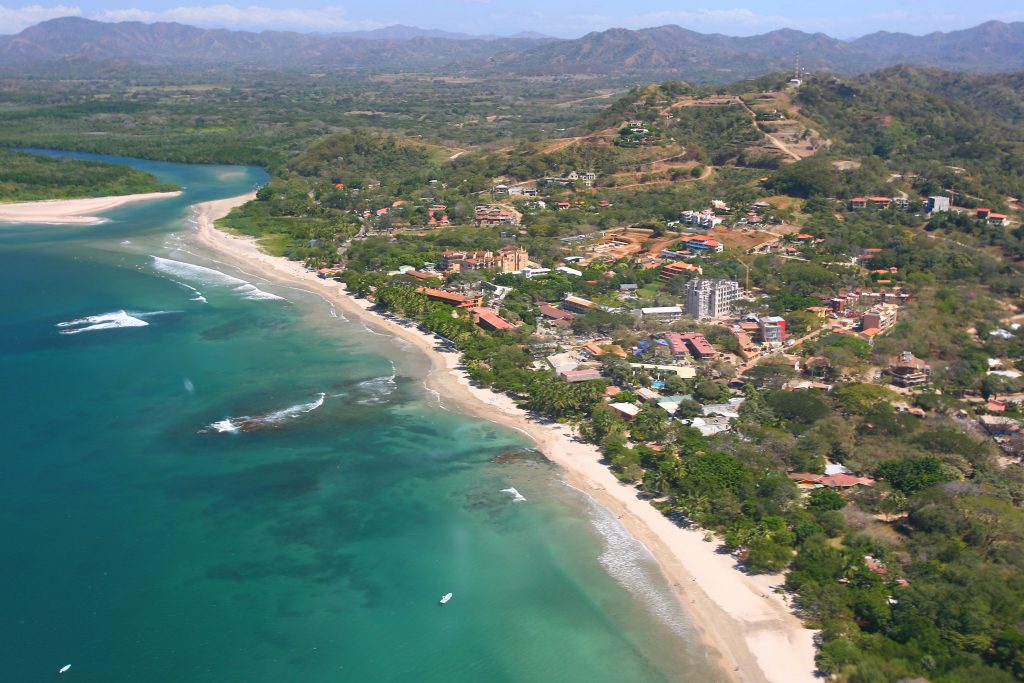 Costa Rica's Tamarindo district is well known for being one of the most popular touristic destinies in the country.
It also happens to be very close to Costa Rica's international airports. However, this is not what makes this beach so notorious.
The most amazing aspect of this paradise near the ocean is the breathtaking sunset you can appreciate by sitting on its soft yellow sand.
Every evening, you'll be able to witness the sun go down as it's reflected through the crystal-clear waters, characterized by their tender waves but strong currents.
The sea is perfect for diverse activities such as fishing and surfing. Besides, it also acts as a fauna refuge that protects the baula turtles, which usually arrive in this area between October and March.
Observe the amazing sunset while you also enjoy the cute baula sea turtles in their natural habitat by booking a Liberia airport transportation to Tamarindo in Costa Rica.
Los Piratas Bay
If you're looking for a place where the sea, the sun, the mountains and the sand are the main ambient to a flawless sunset view in Costa Rica, Los Piratas Bay is the perfect place for you.
In case you're doubting about going to this place, we'll give you some reasons of why you should plan a Costa Rica adventure to this area.
It's not overcrowded, and besides its gorgeous sunset, this place is surrounded by beautiful nature and fresh air that will help you relax and forget about all of your problems.
Los Piratas Bay is also known for its 2 kilometers of pink sand and turquoise water, with the ideal conditions for swimming, practicing snorkel, diving and surfing.
The sunsets are full of color and very special, and the beach stands out for being very clean. This makes it easy to have a tan under the sun, or just sit under the shadows of the trees to have a relaxing time.
You definitely don't want to miss this beach paradise that Guanacaste Viajes and Tours recommends for you.
Salinas Bay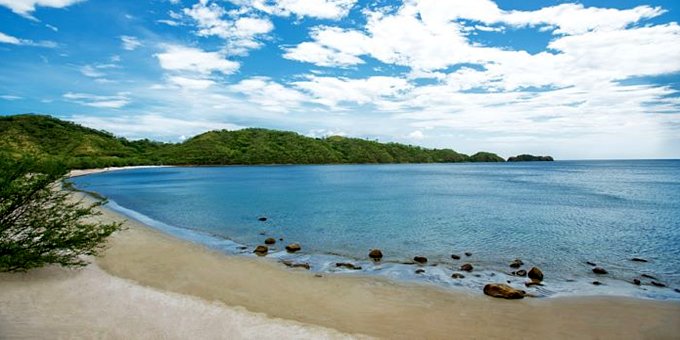 This is a charming hidden jewel located in the occidental coast of Costa Rica, in the north-east corner of the Guanacaste Province, which makes it very easy to access from the Guanacaste Costa Rica airport.
Salinas Bay is a city that harbors many beaches with breathtaking views of a picturesque sunset.
This place also stands out for combining the warmness of the weather with strong winds, a perfect climate for having a good time.
We'll help you schedule an efficient and quick Costa Rica shuttle from Liberia airport to Salinas Bay so that transportation becomes one less problem.
Puerto Carrillo
Puerto Carrillo is a small town in Guanacaste with a population of 1800 habitants. It is focused on giving tourists the ultimate Costa Rican experience.
This includes a gorgeous beach known for its white sand, crystalline waters and forests full of palm trees. Even though it sounds like a dream, the adventure tours in Costa Rica we provide will make it reality.
Puerto Carrillo is your perfect destination to enjoy the Costa Rican sunset that appears to be taken straight out of a movie.
Don't miss the opportunity of traveling to this lovely place through the Liberia airport shuttle service that Guanacaste Viajes provides for you.
Flamingo Beach
Also located in the Costa Rican area of Tamarindo, this is the perfect tropical beach with bright white sand and crystal-clear blue water. It's considered to be one of the jewels of the pacific coast of the country.
The sunsets that are seen from Flamingo Beach will play a key role in your Costa Rica vacations, certainly an unforgettable scenery.
You can appreciate the view by sitting in the golden sand, or even from the comfort of your hotel. You can get to any accommodation you want by hiring a driver in Costa Rica now.
Now that you know what are the best places to enjoy the sunset in Guanacaste, you have to be a witness of this magical moment in Costa Rica through our private transportation services.
It's really easy, all you got to do is schedule a Costa Rica airport transfer that will take you to wherever you're planning to go.
You can leave the rest to Guanacaste Viajes, the most trustworthy and safe Costa Rica adventure tours services company.