Costa Rica has become a major tourist hub in the last couple of decades. This is, in part, because of its tropical location with a template climate all year round. However, the country experiences a rainy season that goes from May to November.
For this reason, Guanacaste Viajes has become so popular. Guanacaste is located in northwestern Costa Rica. This Province experiences much less rainfall than the rest of the country, making it an ideal destination for your summer Costa Rica vacations.
This incredible Costa Rican province is the largest, less populous province in the country. This makes Guanacaste a large playground for tourists looking to explore Costa Rica, its incredible landscapes and biodiversity.
Guanacaste is the single most visited province in the whole of Costa Rica. This is no coincidence at all; Costa Rica is home to several of the country's most renowned national parks as well as the "Gold Coast".
Some of the national parks found in this amazing province are the Tenorio Volcano National Park and Las Baulas National Marine Park. Guanacaste is also home to Tamarindo, Costa Rica, the single most visited destination in the country.
The Tenorio Volcano National Park is officially located in the Alajuela Province. However, the Tenorio Volcano proper is actually located on the Pacific side of the Cordillera de Guanacaste, inside the Guanacaste Province.
The Tenorio Volcano National Park is considered one of Costa Rica's best-kept secrets. It is home the Tenorio Volcano and to an abundance of flora and fauna as well as the stunning Río Celeste Waterfall, Costa Rica.
This park is an amazing location for hikers and tourists looking to explore Costa Rica's incredible biodiversity. Animal species found in the park include pumas, tapirs, squirrels, howler monkeys, ocelots, and even jaguars.
This national park also boasts incredible river views, including views of the awe-inspiring Río Celeste Waterfall, Costa Rica. The Río Celeste is one of the most beautiful natural wonders of Costa Rica.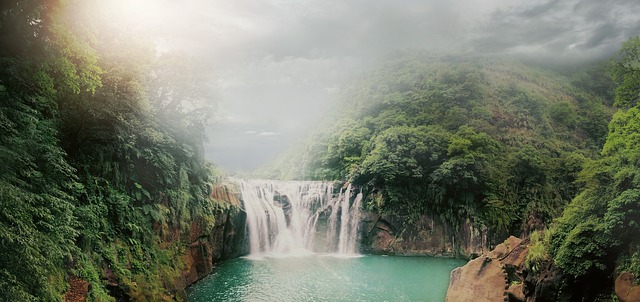 Legend tells that when god was painting the sky blue he dipped his brushes in Río Celeste's waters, thus turning them sky blue. In reality, the river's color comes from a chemical reaction between the chemicals present in the two streams that make up the river.
Las Baulas National Marine Park is located only a few kilometers north of Tamarindo, Costa Rica. This makes it very accessible for tourists, since Tamarindo, Costa Rica has its very own land strip, with local flights coming in and out every day.
Las Baulas National Marine Park is one of the most important turtle nesting sites in the country. This park was created in order to protect the endangered leatherback sea turtle, as well as several other species that inhabit the area.
Because of this, this is one of the best destinations for exploring Costa Rica's incredible biodiversity. The park encompasses around 445 hectares of mangrove, swamps, and coastline.
You can swim, surf or dive in the parks incredible beaches. You can also bike or ride on horseback around the park as you spot the local wildlife. This is must-visit destination during your Guanacaste Viajes.
This world-renowned beach town is sought after by surfers around the globe for its amazing waves and warm waters. If you are in town, you have to try surfing its incredible waves.
If you do not know how to surf, there are plenty of businesses around town that offer surfing lessons. This is an opportunity you cannot miss.
Tamarindo, Costa Rica is the main tourist hub in Costa Rica. As such, it is also is one of the country's main center of investment, becoming one of the most developed towns in Costa Rica.
This makes Tamarindo, Costa Rica an ideal place for a night out. The town is dotted with excellent restaurants, bars, and clubs for you to have the most fun during your Guanacaste Viajes.
If you are visiting Costa Rica during the northern hemisphere's summer, you have to be aware that this time coincides with Costa Rica's rainy season.
It is true that Guanacaste does not experience as much rainfall during this time as the rest of the country. However, some roads do tend to flood and alternative routes need to be considered.
This is why hiring some kind of private transportation services during your Guanacaste Viajes is of such importance. Private transportation services range from airport transfer Costa Rica and private Costa Rica shuttle services to car rentals and private drivers.