Guanacaste is well known for being one of Central America's most relevant places for beach and surfing activities, and a Costa Rica adventure to Llanos de Cortez Waterfall is the perfect proof.
We're here to help you schedule a Costa Rica transportation that will get you where you want to go to experience the best Costa Rica vacations.
Although there are a lot of Costa Rica adventure tours to explore the province in the best way, there's one place that stands out from the others and that you can't miss in your stay in Guanacaste: the amazing Llanos de Cortez waterfall.
Guanacaste Viajes provides the most trustworthy private transportation services and Costa Rica shuttle to get you to your hotel or resort of destination with high quality and safe Liberia airport transportation.
We bring you all the information you need to know about what expect from the Llanos de Cortés waterfall. Our Liberia airport shuttle service will make sure you get the best Costa Rica adventure tours around this location.
How to arrive
Llanos de Cortés is only 3 hours from San José, the capital of Costa Rica. It's truly a natural paradise and it's very easy to reach, so taking a Costa Rica shuttle service to arrive to this place won't be hard.
To arrive, you must go through the cities of Cañas, Upala and Bagaces. However, if you take out Liberia airport transportation, it's nothing you have to worry about.
However, if you're going to this place from your hotel, it's important to know how to get there. After you go through Bagaces, you must turn left around Piedras River until you get to the entrance of the property.
Normally, the entrance is guarded by someone of the local community that charges a ticket to go inside. The price is voluntary, and the money goes to schools, sport teams and other local necessities.
That's why you can take our private transportation services to get there in the fastest and safest way possible.
The road that leads from the land's main entrance to the parking lot isn't in perfect state, but that doesn't stop the entrance of cars to the place.
Remember that you don't have to worry about transportation with Guanacaste Viajes and Tours. We provide the best Costa Rica airport transfers of the country.
What to do in Llanos de Cortés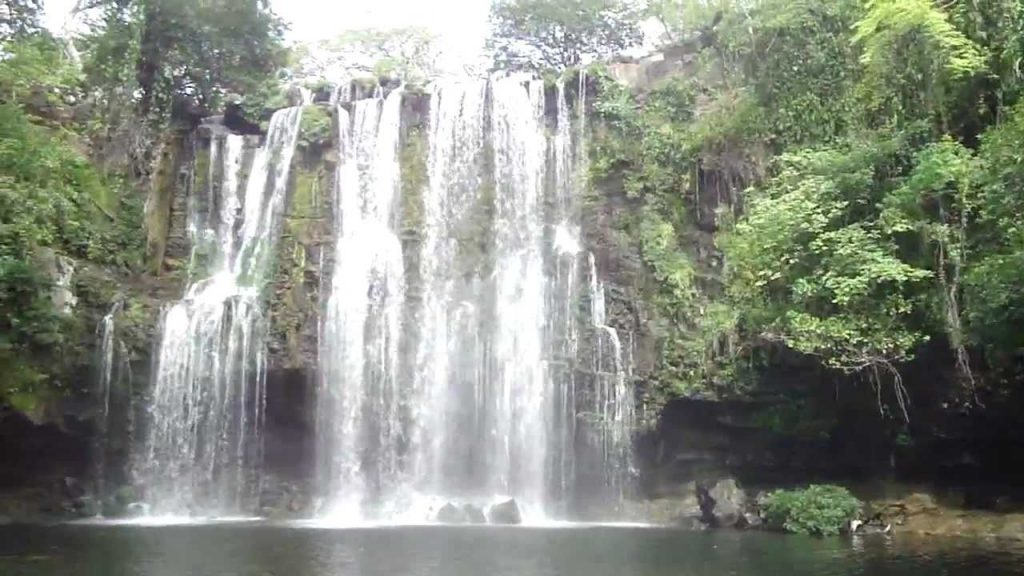 When you get out of the car, a security guard welcomes you and can explain the path towards the waterfall, and another one less known that leads to a well.
To begin your Costa Rica adventure, you need to walk approximately 50 meters until you get to what seems to be a private beach, but with a gorgeous view in front of your eyes: the beautiful Llanos de Cortez waterfall.
There are a lot of trees surrounding the rainfall whose shadow allows you to sit nearby in tranquility and create the most beautiful memories in these Costa Rica vacations.
Once you get in the water, you can climb a few stones where the water falls like a refreshing curtain. In the heat of Guanacaste, there isn't any place more refreshing and relaxing than Llanos de Cortez.
However, the hidden well is also a place you must visit during these Costa Rica vacations. To get there, you have to cross the river and walk above the waterfall, where you can get a wonderful view of the area.
After turning around and taking the path to the right, you'll encounter the most paradisiac and beautiful water well you'll see in your life.
The crystalline water emerges from a stonewall with plants, and it proceeds from sources that are apparently not related to the main river of the waterfall. The well has 2 meters of depth and it's free of any danger.
When to visit
This property is open to the public everyday from 8 in the morning to 4 in the afternoon. It's important to mention that you can't bring pets with you.
Tourists agree that the most surprising aspect of this place is that it's located in the driest province of Costa Rica, and yet you can still find an oasis full of vegetation and greenery to be visited, protected and enjoy by you.
Now that we've provided you all the information that you need to know about the lovely Llanos de Cortez waterfall, it's your turn to live the most relaxing Costa Rica adventure of your life.
Visiting the waterfalls of Llanos de Cortés guarantees a fun Costa Rica vacation that won't cost you a lot of money. It's the ideal plan because you will have a great time for a cheap price.
Book immediately a Liberia airport shuttle service from any international airport of your preference in Costa Rica, and be ready to have the most joyful adventure of your life with Guanacaste Viajes and Tours.
Summary
Reviewer
Review Date
Reviewed Item
Costa Rica adventure to Llanos de Cortez Waterfall
Author Rating