Guanacaste has become Costa Rica's most relevant place for practicing surf and yoga, and we're here to help you book a Costa Rica transportation for getting to wherever you want to go in your Costa Rica vacations.
Even though there are a lot of Costa Rica adventure tours, there's one activity that stands out from the others and that you can't miss in your stay in Guanacaste: going to beach.
Guanacaste Viajes has the best private transportation services and Costa Rica shuttle to get you to your hotel or resort of destination with high quality and safe Liberia airport transfer.
There's one particular beach that has caught the attention of all the tourists through the years: Cuajiniquil Beach. Our Liberia airport transportation will make sure you spend the best vacations in Costa Rica.
Guanacaste is known for its 200 kilometers of beautiful beaches, famous by their sunny climate during the whole year, crystal clear waters and paradisiac natural environments. Check out everything you need to know about Cuajiniquil Beach:
What to Do in Cuajiniquil Beach?
Once you arrive from the Liberia Costa Rica airport through our Costa Rica airport transfers, you'll need to already know what to do in this magnificent beach.
This place is ideal for riding horses, resting and practicing water sports such as diving and snorkeling. Its great marine riches invite the tourists to observe the diversity of species, just as many as the water birds that you'll find here.
You can get here through our private transportation services for a very cheap price.
With gray colored sand and crystalline waters that are characterized for their soft waves and abundant sea life, the beach consists of an extension of 1,7 kilometers and it's near the Santa Rosa National Park.
The waters are perfect for swimming, which is why Costa Rican families usually come here to spend a day in tranquility. You don't want to miss this peaceful area, so schedule now a Costa Rica shuttle service to this place.
Besides the watersport activities, such as fishing, kayak and the mentioned above, you can also visit the Santa Elena National Park to complete a great Costa Rica adventure.
What will I find in Cuajiniquil Beach?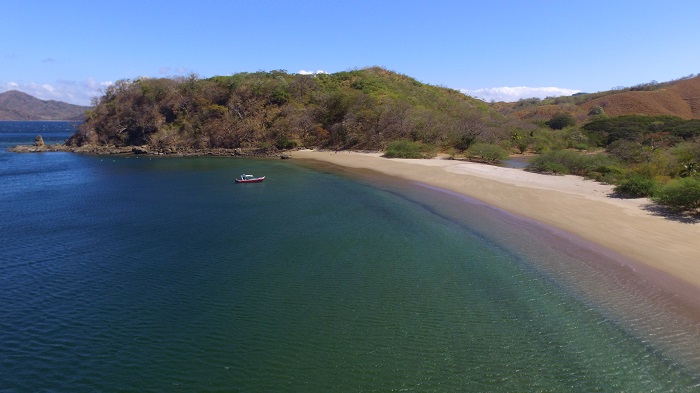 Once you get to Cuanjiniquil Beach using the amazing Liberia airport shuttle services that Guanacaste Viajes has for you, you must know what will you find here.
This beach is destined for taking the sunrays in and relaxing. It's completely surrounded by the mangrove swamp of Cuajiniquil River, and it presents coastal vegetation mixed with private tenements.
In its fauna, two groups of animals stand out. Of course we're talking about the fishes and the birds. Besides, around 2000 people live in this beach and its surroundings, and their main source of survival is fishing.
The surrounding area also has a huge attractive due to its cheerful atmosphere, with a variety of lodgment, restaurant and sport equipment lease options that you can get to using our Liberia airport shuttle service.
Where is Cuajiniquil Beach located?
It's in the northern region of Costa Rica, in the Canton de la Cruz of the Guanacaste Province, by Santa Elena Bay, between Tomás Bay and Junquillal Beach.
You can arrive safely to this area from the Guanacaste Costa Rica airport with our trustworthy services.
Cuanjiniquil is 58 kilometers from the commercial center of Liberia, 50 kilometers from Nicaragua and 275 kilometers from San José, the capital of Costa Rica.
This might seem like a long distance, but it's the stillness and calm ambient of the place that makes it stand out, along with its unique natural beauty.
Besides, with out quick private transportation services, you will arrive quickly and safely with no inconveniences or problems.
Stay in Santa Elena Lodge
If you're wondering where to stay near the area of Cuajiniquil Beach after you arrive from the Costa Rica shuttle service, the Santa Elena Lodge is a cozy beautiful lodgment to stay at.
The lodge is very clean, the service is wonderful, the rooms are very comfortable and the breakfast is simply delicious. Each room has air conditioning and the accommodation also offers parking services.
It's the best place to spend your Costa Rica vacations in peace and tranquility for a very low price.
Besides, Guanacaste Viajes assures a fast Costa Rica shuttle from the Liberia airport to anywhere you want to go, including this lodge.
You can be a witness of the beauty of the sea by booking a Costa Rica adventure tour to Cuajiniquil Beach.
Plan a family tip and dare to live the most fascinating adventure of your life in this Costa Rican paradise.
Now that you know everything about Cuajiniquil Beach in Guanacaste, schedule your private transportation services from the Liberia Costa Rica airport to get to wherever you want with Guanacastes Viajes and Tours.
Summary
Reviewer
Review Date
Reviewed Item
Costa Rica shuttle service to Cuajiniquil Beach
Author Rating