Guanacaste's Costa Rica airport has become the country's most relevant place for practicing surf and yoga, and we're here to help you book a Costa Rica transportation for getting to wherever you want to go.
Even though there are a lot of Costa Rica adventure tours, there's one activity that stands out from the others and that you can't miss in your stay in Guanacaste: going to the beach.
Guanacaste Viajes has the best private transportation services and Costa Rica shuttle to get you to your hotel or resort of destination with high quality and safe Liberia airport transportation.
We bring you a list of the 7 best beaches in Guanacaste bathed by the Pacific Ocean. Our Liberia airport shuttle service will make sure you get the best Costa Rica adventure tours around these locations.
Guanacaste is known for its 200 kilometers of beautiful beaches, famous by its sunny climate during the whole year, crystal clear waters and paradisiac natural environments.
Before scheduling our private transportation services, you must check out the 7 best beaches in Guanacaste:
1 – Conchal Beach
Considered to be one of the most exotic beaches near the Costa Rica airport of Guanacaste, it includes 2 kilometers of sand almost entirely accompanied by small fragments of seashells and pulverized rocks.
There aren't many touristic services besides the reduced luxurious options, so you'll need to travel to other towns, like Brasilito, to find a major lodgment offer. You can do it through our private transportation services for a very cheap price.
2 – Ostional Beach
Located in the Wild Life Ostional Refuge, a natural marvel that protects diverse species of sea turtles of the Pacific Ocean. These turtles arrive at the sands of the beach every year, specially between July and December.
This is why this period of time is perfect for planning a Costa Rica airport transportation with Guanacaste Viajes.
The 200-meter beach is characterized for its strong swell and tide, with crystalline waters, dark sands and mangrove environments, that act like home to diverse bird species, which you can know more about through our Guanacaste Viajes and Tours.
This little town of Ostional offers some options of accommodations where to stay, but the majority of visitors prefer the touristic services of the nearby locations of Nosara, San Juanillo or Samara.
You can stay in any hotel you like near this beach, but be sure to get there safely by using our private transportation services.
3 – Guiones Beach
One of the best beaches in Guanacaste for surfing and nature lovers, it has 7 kilometers of white sands, bathed by the crystalline waters.
Its peculiar rugged surroundings are just a few kilometers away from the Wild Life Ostional Refuge, a part of the Costa Rica adventure tours we have to offer.
Due to its constant swell, surfing is this beach's main activities, but it's also very common to se people enjoying walks, horse rides or simply admiring the sunset.
By the beach, you'll find "The American Project", an emblematic area that congregates surfing and yoga lovers. There's also a variety of hotels and restaurants well known for its eco-friendly practices.
4 – Hermosa Beach
Translated to "Beautiful Beach" from Spanish, it has 2 kilometers of extension, with grayish sands and calm waters of intense blue tones, in an idyllic environment of mountains covered of vegetation.
The surrounding area also has a huge attractive due to its cheerful atmosphere, with a variety of lodgment, restaurant and sport equipment lease options that you can get to using our Liberia airport shuttle service.
5 – Flamingo Beach
Considered to be a luxurious destination and one of the most beautiful beaches in the area of the Liberia Costa Rica airport , it has soft white sand and calms clear waters surrounded by a forest of coconut trees and mangroves.
The soft swell and marine biodiversity will allow you to enjoy multiple activities in the water, such as swimming with white sharks, snorkel, diving, sailing and sport fishing.
Along the whole coastline, you'll find elegant hotels, condos and exclusive private residencies to which you can arrive safely with the private transportation services of our company
6 – Grande Beach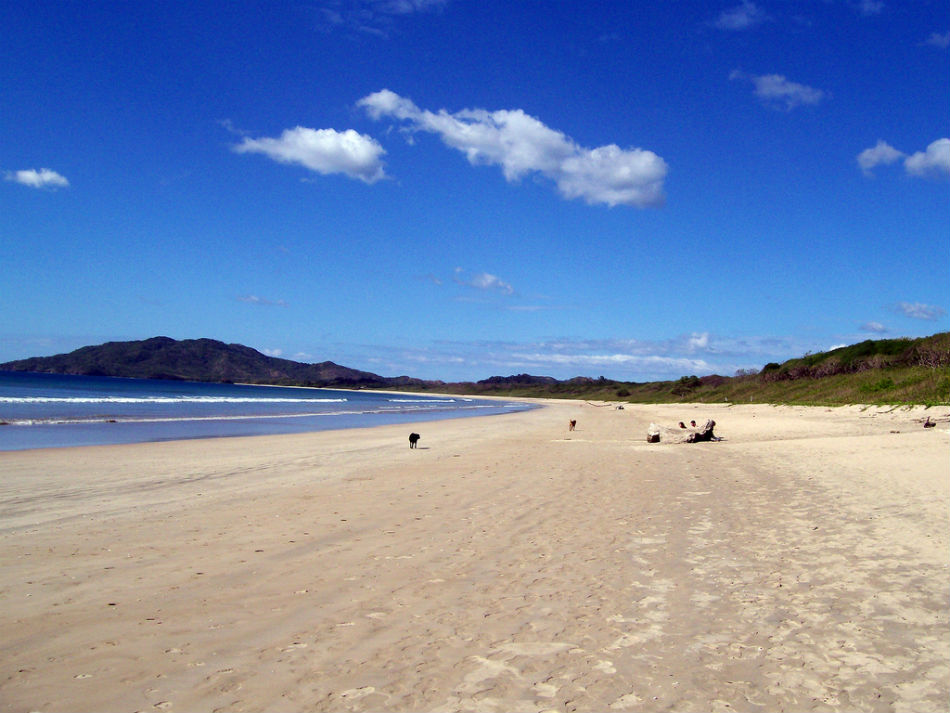 This lovely beach, located in the area of the National Marine Park Las Baulas, owes its name due to its large extension. Our Liberia airport shuttle service will guarantee a safe arrival to this zone.
It's one of the better-known beaches of Guanacaste for surfers, and it's a very relevant natural reserve for the nesting of Baulas turtles, that arrive between October and May.
You can be a witness of the beauty of these sea animals by booking a Costa Rica adventure tour to Grande Beach.
However, the touristic infrastructure of this beach is limited, which is why the majority of its visitors stay in the neighbor beach of Tamarindo.
7 – Tamarindo Beach
Also a part of the National Marine Park Las Baulas, it's one of the main sun destinations and beaches of the province, mixing unique landscapes with a variety of hotels, restaurants and nightlife options.
It's very relevant to mention that this area also has its own Costa Rica international airport services.
With 2 kilometers of extension, the beach's beauty is complemented by oaks, tamarinds and coconut trees and its soft swell are ideal for practicing snorkel, surfing or just swimming.
Now that you know everything about the best 7 beaches in Guanacaste, schedule your Costa Rica shuttle from the Liberia airport to get to wherever you want and enjoy awesome Costa Rica vacations.