For tourists who love to visit new natural phenomenon and admire one of a kind, paradisiac views, a Costa Rica airport shuttle to Guanacaste is the ideal choice. It's a province that introduces the world's most exotic nature and animal species.
We got everything you want in regards to top-notch Liberia airport transportation, whether you need a shared Liberia airport shuttle or if you prefer our private transportation services. We even offer Costa Rica adventure tours.
Guanacaste Viajes and Tours make sure you live the best Costa Rica vacations possible while visiting every single important touristic center in the province. Your safety matters, that's why we got the perfect Costa Rica airport shuttle for you.
Leave your troubling issues at home and take a very well-deserved break guided by our Costa Rica private drivers, that will make sure that you arrive safely to every single activity of the adventure tours in Costa Rica.
Costa Rica is very popular among visitors from all around the globe, and one of the reasons for its notoriety is the amazing weather, that combines the tropical warmth of the heat that ensures a good tan while still remaining windy and fresh.
Taking one of our high-quality private tours in Costa Rica's province of Guanacaste will let you feel this great climate on first hand while you enjoy the fun activities that we have in stores for you.
One of the best options that we got in order to ensure that you have a marvelous Costa Rica adventure is taking a Costa Rica airport shuttle to non-other than the Diria National Park.
In this article, we well explain to you in detail what to expect from this national park, as well as why is Guanacaste Viajes and Tours a smart choice to schedule a Costa Rica transportation to.
Where is Diria National Park located?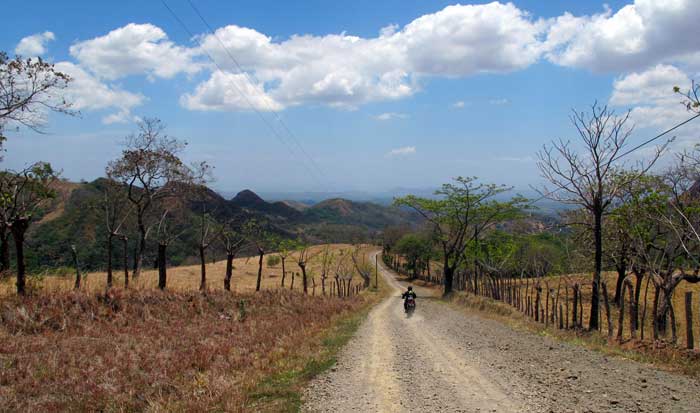 This brilliant touristic place is located very close to the town of Santa Cruz, which you can find to the north of the Guanacaste Province.
You can get to the town of Santa Cruz with no problems thanks to our Costa Rica shuttle service since the roads are made up of a nice pavement that makes the trip very comfortable and quick.
However, the challenge begins once you pass through the city of Santa Cruz, when the flat pavement disappears and it is suddenly replaced by the dirt, with curves that are known for being very sharp and even a couple of stream crossings.
Don't be fooled, the road may be hard, but nothing is impossible for the Costa Rica private drivers that ensure your secure arrival so you can experience this Costa Rica adventure tour without even feeling the tumbling of the road.
The level of experience of our drivers surpasses any difficulty you may find on your way, which is why it's very convenient for you to forget about all the stress and book a Costa Rica airport shuttle to Diria National Park with Guanacaste Viajes.
What can I expect from the Diria National Park?
Although the trail is mostly flat and has no difficulty, you can definitely expect a lot of hiking on the Diria National Park, which is why we advise that only trained and physically fit people participate in this Costa Rica adventure.
Planning a Costa Rica airport shuttle with Guanacaste Viajes and Tours is very relevant because it will allow you to save time that you would spend stressing about Costa Rica transportation by actually having fun with your loved ones.
Initially, the first trail that you have to hike is very simple and can be walked in less than an hour. But it starts getting more and more accentuated, connecting with dirt roads that eventually lead you back to the main station.
This is when you will arrive at the second trial, from where you will have a breathtaking picturesque view that is worth photographing and just admiring. You get a superb view of all the mountains that embrace the national park.
Remember to take your camera, smartphone, or any other device that you can use to take a picture of this panorama so you can remember this adventure tour in Costa Rica forever.
Intensifying the beauty of the experience, the third trail takes you directly into a magnificent waterfall that ends in a pool where you can swim and where your muscles can relax after the exhausting trip.
Users of our Costa Rica shuttle services have claimed that a Costa Rica adventure tour to the National Park of Diria is an activity that you can't miss.
Opposing to the typical dry forests that characterize the natural parks of Guanacaste, Diria National Park is full of much greener and better-looking areas than other touristic centers in the province.
Animal species to find here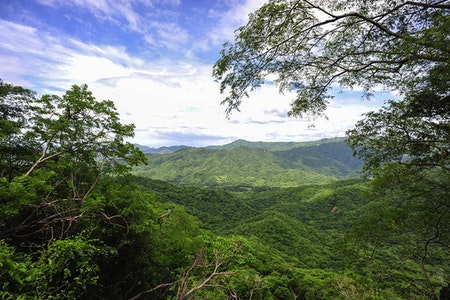 Diria National Park is also full of rare animal species, especially because it acts as a relevant transition area for birds and other animals that find food and water here.
Thanks to this, you will also spot wildlife as you've never seen it before. But don't worry, it's a completely safe Costa Rica adventure tour that you certainly have to be a part of.
On the list of unique animals that can be seen in the Diria National Park we include mantled howlers, white-faced capuchin monkeys, white-nosed coati, iguanas that are spiny-tailed, and a tourist's favorite: the enormous blue morpho butterfly.
You can find the friendly monkeys usually eating ripe mangoes in the trees that surround the main station of this park.
Once you finish your Costa Rica adventure tour at the Diria National Park, our professional Costa Rica private drivers will be ready to get you back to your hotel to rest your energy so you can live a new Costa Rica adventure the next day.
Dare to face this challenging experience of hiking through the Diria National Park so you can be a witness to one of the most charming landscapes in Guanacaste and in the country of Costa Rica.
Summary
Reviewer
Review Date
Reviewed Item
A flawless escapade: Costa Rica airport shuttle to Diria National Park